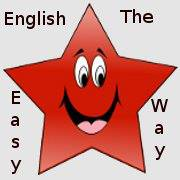 English The Easy Way
Everybody Can Learn English
English Grammar
Adverbs of Place
Adverbs of Place
Adverbs of Place - states "where" something happens
Over - Can you put the picture over the sofa?
Under - Please put the boxes are under the table.
Downstairs - Your sister is waiting for you downstairs.
Near - I live near the school.
Far - I live far from the beach.
North - I live the North of the country.
Behind - The people who live behind our house are very nice.
Inside - We do not want to sit inside.
Outside - We work outside.
Adverbs of Place