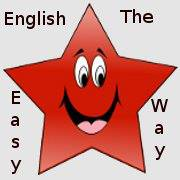 English The Easy Way
Everybody Can Learn English
English Grammar
English Adjectives
English Adjectives
Adjectives provide information about a noun.
Adjectives are used to:
clarify the noun
describe the noun
qualify someone or something
provide more information about the noun
Adjectives usually come before the noun.

The red ball.
The big house.
The yellow bus.
Adjectives answer one of the following questions:
What kind?

The chocolate cookies.
The fancy car.

How something or someone looks?

The big cookies.
The green car.

The amount or size.

The five cookies.
The two cars.

Which one?

I want the green dress. I do not want the blue dress.
My car is the black car. I do not know who owns the white car.
English Adjectives
Denominal Adjectives Quiz Download the PDF
Comparative Adjective Structure
As...As Comparative Adjectives
Using 2 & 3 Adjective Together
Superlative Adjective Structure